was an historic moment when Vijay Amritraj, legendary Indian Tennis Star took over as the President of the Tamil Nadu Tennis Association. That a former Tennis Champion takes over as the top administrator of a State Tennis Association is rare in Indian sport. Vijay, a four time Grand Slam Quarter finalist has led India to two Davis cup finals in 1974 and 1987. He has, by far, been the most successful Indian Tennis Player in the Open Era, winning 16 ATP tour titles. He has served as the President of the ATP Tour Player Council, as a Messenger of Peace for the United Nations and is India's best Tennis commentator. The 64 year old is the second son of Robert and Maggie Amritraj.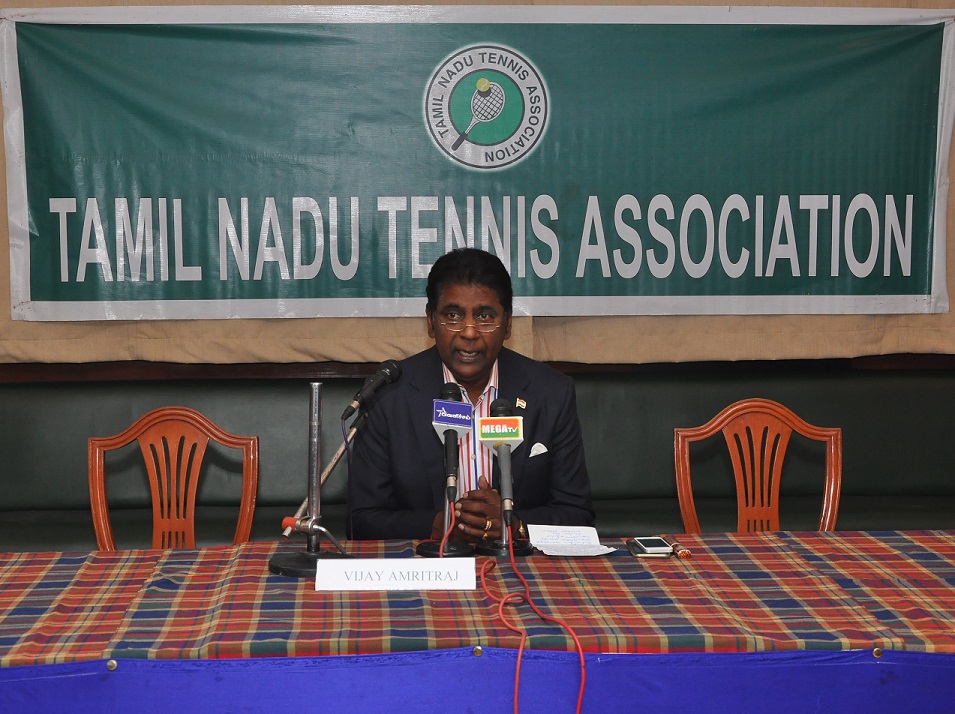 At the press conference following his unanimous election as President of TNTA, he said,
" It is a privilege to be the President of Tamil Nadu Tennis Association, which has been amongst the leading State Associations promoting Tennis in the country. My father Robert Amritraj was the Council Member of TNTA from 1972 to 1980. Today, it is a very special privilege to take this legacy forward. I also commend the outgoing administrators for their role in keeping up the promotion of the game during their tenure.
I am aware that expectations will be high. Tennis in the country needs a new fillip to improve the standard. I along with my team will do our best to give the game that much needed fillip. Concrete plans will be firmed up shortly. At this point I would like to request the support of all of you in all the endeavours of the Association. "
At the Annual General Meeting of Tamil Nadu Tennis Association held on Thursday, 20thSeptember 2018 the following were unanimously elected as Office Bearers and Councillors for a 3 year period 2018 – 2021.
President: Mr. Vijay Amritraj
Vice President: Mr. A. Vellayan
Mr. Karti P Chidambaram
Mr. Vijay Sankar
Mr. Haresh Ramachandran
Hony. Secretary: Mr. Prem Kumar Karra
Hony. Treasurer: Mr. Vivek Reddy
Councillors: 1. Mr. Jasper Cornelius
Mr. M. Chander
Mr. Shivkumar Palani
Mr. K. Vidyashankar
Mr. T.V. Subramaniyam
Mr. Murali Padmanabhan
Mr. B. Venkatasubramaniam
Mr. K. Suresh
Mrs. Sai Jayalakshmi
Mrs. Anuradha Ravishankar
Mr. G. Vairavan
Mr. K. Madhubalan
Mr. Manoj Chandani
Dr. K. Shivaram Selvakkumar
Hiten Joshi
Chief Executive Officer
Tamil Nadu Tennis Association